In this very affordable Ensemble Music Program, not only can you hone your instrumental and vocal skills, but you can also develop your performance skills as well!  Throughout the calendar year, we will offer a number of exciting and diverse music ensembles directed by Dr. Rob Brosh.
Our Ensemble Program here at Jersey Drum Lessons features a wide variety of ethnic percussion ensembles including:
West African Percussion Ensemble
Brazilian Percussion Ensemble
Afro-Cuban Percussion Ensemble
We also feature:
Jazz Ensembles (multi-level)
Led Zeppelin Ensemble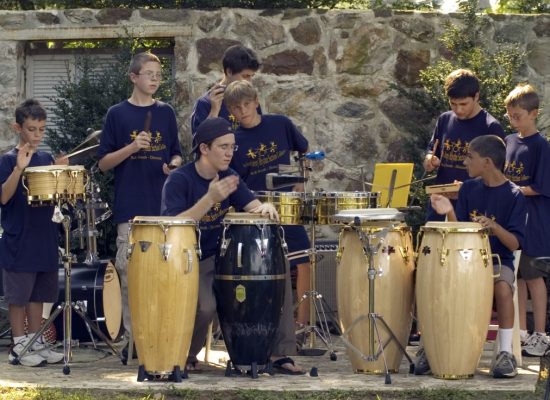 Students gain valuable musical experience as each ensemble will rehearse for a total of eight weeks and then will perform a full concert at a selected venue. Students will receive both the audio and written music for the styles and artists/bands that the ensemble covers.Here is just a sample of our
Ensemble offerings for 2023-2024:
West African Percussion Ensemble
(offered summer 2023 and summer 2025)
In this ensemble, students learn many exciting and complex rhythms and instruments from the West-African countries of Ghana and Togo. Learn the styles of Gahu, Sikyi, Adowa, and how to play the talking drum, djembe, gankogui bell, axatse, kidi, and many other types of drums. West African music has had a huge impact on many western music styles such as jazz and funk. This exciting ensemble brings you the original source of so much of today's music!
(No prior percussion experience is necessary)
Brazilian Percussion Ensemble
(offered summer 2024)
This Ensemble focuses on the music of Brazilian styles such as samba, baiao, partido alto, and more. Students will learn how to play and solo on a vast array of Brazilian instruments such as; surdo, tamborim, repique, caixa, pandeiro, ago-go bells and much more. Join us as we perform these exciting music styles! 
(No prior percussion experience is necessary)
Afro-Cuban Percussion Ensemble 
(offered summer 2025)
In this ensemble,  percussionists  learn some of the most fun and exciting  Afro-Cuban rhythms and  develop performance skills in one of the richest music cultures in the world! Students will learn all Afro-Cuban Percussion Instruments including: congas, bongos, timbales , guiro, bells, shekere, claves, bomba drum, maracas, and more……
Additionally, students will learn many styles of Afro-Cuban music including:                                                      Son – Son Montuno – Mambo – Abakua – Rumba Guaguanco – Songo
 (No prior percussion experience is necessary)
Jazz Ensembles (entry level and advanced) (offered Fall 2023)
If you are just starting out or have been studying jazz for a while, you can learn to play jazz in a be-bop jazz ensemble and develop the following jazz skills that include; improvising and soloing over jazz standards, interacting in and with a rhythm section, and learning to swing in a variety of tempos and meters!
Our goal is to study the "jazz greats" – learn the basics of be-bop jazz – and begin to build your jazz standards repertoire!
Led Zeppelin Ensemble (and bundled Led Zeppelin Course) (offered Fall 2023)
In this six week music experience, music students  learn to play the music of the legendary rock band Led Zeppelin! Not only that, but this ensemble also includes a "Rock Doc mini course Led Zeppelin course"!  For the 1st four weeks, students study the musical history and style of Led Zeppelin (complete with both in person lectures and online materials) and then begin to rehearse selected Zeppelin songs. students then give a hard rocking Led Zeppelin performance! Instrumentation will include: guitar, bass, drumset, keyboards, and vocals.
There is nothing around like this combined class and ensemble experience!
Ensemble Pricing and Specific 2023-2024 Schedule
For information of the very affordable ensemble costs and start dates
call  856-912-1296 or leave a message by clicking and filling out the contact form below
Student West African Drum Ensemble Summer 2023
Rob Brosh Student Jazz Ensemble Spring 2023
Here's what Students are saying about playing in our Ensembles!
More Rob Brosh Ensemble Videos